There are a number of ways to assign Action Items to your team members:
From the Audit Report (or Remediation Report) that Action Item was generated from

From the "Action Items" sub-module (within the AUDITS module)
Assigning from an audit report
If you already know which audit report has the Action Item you'd like to assign, find that audit within the "Manage Audits" sub-module.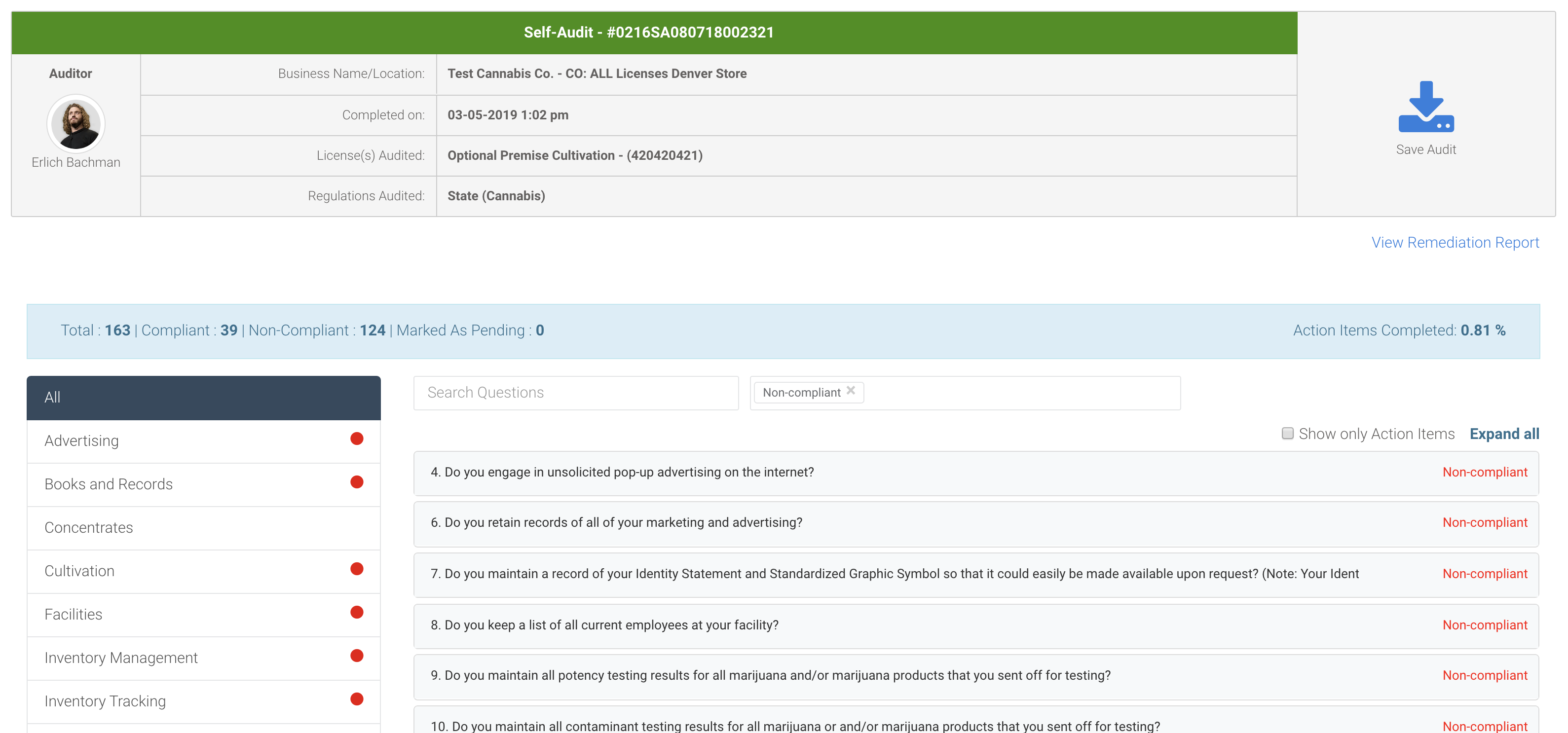 Once on the audit report page, filter the list of questions to show only answers that are "Non-compliant" (see text box to the right of "Search Questions" bar). Click on any question to expand that question and show the associated Action Item. Then click the "Assign Users" button in the Action Item box.
Assigning from a remediation report
Once in the remediation report, click on any question in the "Resolved" or "Unresolved" sections of the report to see details about that question. That includes the Action Item(s) pertaining to that question. Click the "Assign Users" button underneath the Action Item to assign it.
When a question is expanded, click the "Assign Users" button to add or remove users for that Action Item.
Tip: Since Remediation Reports by definition ONLY show questions marked "Non-compliant", it's usually easier to access an Action Item from the Remediation Report.
Assigning from the "Action Items" sub-module
After navigating to the "Action Items" sub-module, you'll see a list of Actions Items on the screen.
The list of Action Items can be filtered by a number of pieces of data, including assignees, Action Item Status and Category. For even greater ease, you can search by audit number and/or the text of the Action Item.
Click on any Action Item, and the details of that Action Item will appear in a modal on the screen. Click the "Assign Users" button, and you'll be prompted to select the user(s) you'd like to assign the Action Item to.
Upon clicking the Save button, a notification email will fire to the new assignee(s). This email will include the Action Item along with a link to it in their Simplifya account, so they can easily log in and be directed right to it.
Bulk Assigning Action Items
But possibly the easiest way to navigate your Action Items is by taking bulk actions on them from within the "Action Items" sub-module. 
Click the checkbox next to an Action Item to select it (the checkbox will turn blue). Once all your Actions Items are selected, click the blue person icon in the bulk update box. Depending upon existing assignments for all Action Items, you can click a user and either assign or unassign all selected Action Items to them.
When combined with the granular search and filtering capabilities, bulk assignments save you a ton of time.