More than just your tasks, audits, and SOPs, your Compliance Activity module gives you a company-wide overview of all of your compliance activity.
Note: The "Compliance Activity" and "Licenses" boxes are only visible to Administrators and Managers.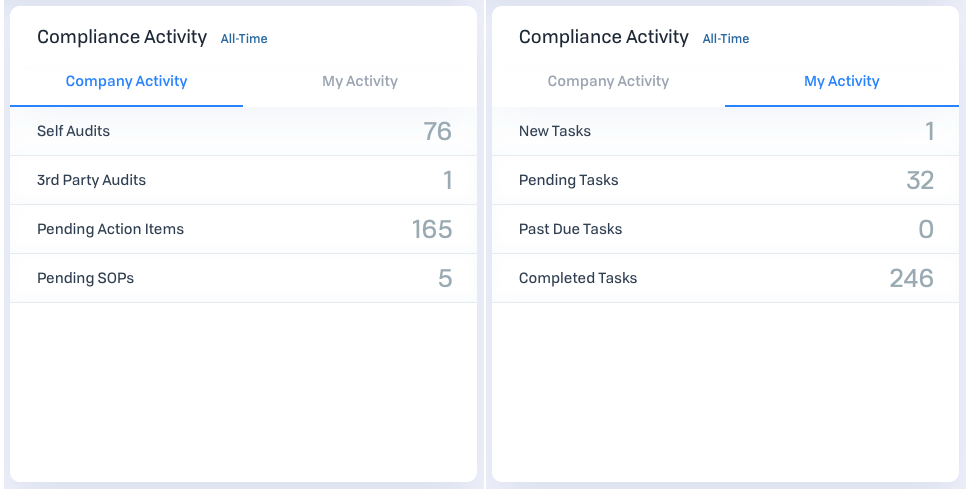 Compliance Activity Sub-menus
Toggle back and forth between "Company Activity" and "My Activity" depending upon which summary you'd like to see.
Company Activity
The "Company Activity" sub-menu shows you company-wide statistics on the following items:
Total Self Audits

Total Third Party Audits

Pending Action Items (includes "In Review" Action Items)

Pending SOPs (SOPs that haven't been completed)
My Activity
Meanwhile, "My Activity" shows me some statistics about tasks assigned to me, including:
New Tasks
Pending Tasks
Past Due Tasks
Completed Tasks
Filtering Compliance Activity

Using the time filter in the top right corner, track the total numbers around your compliance activities by: "All-Time", 15 days, 30 days, 3 months, 6 months, and 12 months. Once a filter is set, changes will take effect on both tabs of the "Compliance Activity" box.
By default, the "Compliance Activity" box will show results based on the timeframe "All-Time".