The document details pane lets you edit, delete, and add tags to your documents. It also lets you do two of the most important things you need: view and delete documents.
While reviewing your list of documents, select the "View Details >" anchor text on the right-hand side of the row. A panel will slide in from the left, that's your "Document Details Pane". In Organizing documents with tags, we got into how to use this panel to add or remove tags from a document.
To skip ahead:
Viewing and downloading documents
View or download documents from the document details pane
The "View Document" anchor text will appear at the very top of the document details pane, and when clicked, will open the file for you to review. It's a very handy tool when you're trying to decide if the file you've clicked is the one you're actually looking for. 
To the right of the view document button is the "Download" button. It will allow you to download the file directly to your desktop (or wherever downloads go on your computer).
Why can't I see the "Download" button?
Whether you can see the buttons depends on the access you've been given for that file. We'll get more into document permissions in our next article, but basically if you don't have download permissions, you won't be able to download a document. 
Why is it asking me for a password?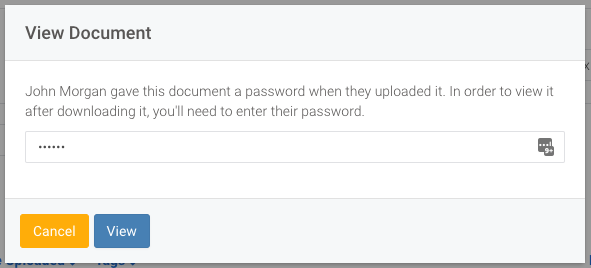 A user uploading a file is given the choice to add a password to that document. If that user chooses to add a password, a modal like the above will appear whenever anyone (including that user) tries to view or download the document.
Enter their password to view/download the document. If you don't know the password, you'll have to check with the person who uploaded it to get the password directly.
What do we do if we forget a document's password?
For security purposes, we don't retain document passwords. Which means if you (and the user who uploaded the document) have forgotten the password, you'll need to delete and re-upload the document.
Keep reading: An explanation of document user permissions