As of May 2020, Simplifya's Audits module gives you the ability to create Audit Templates.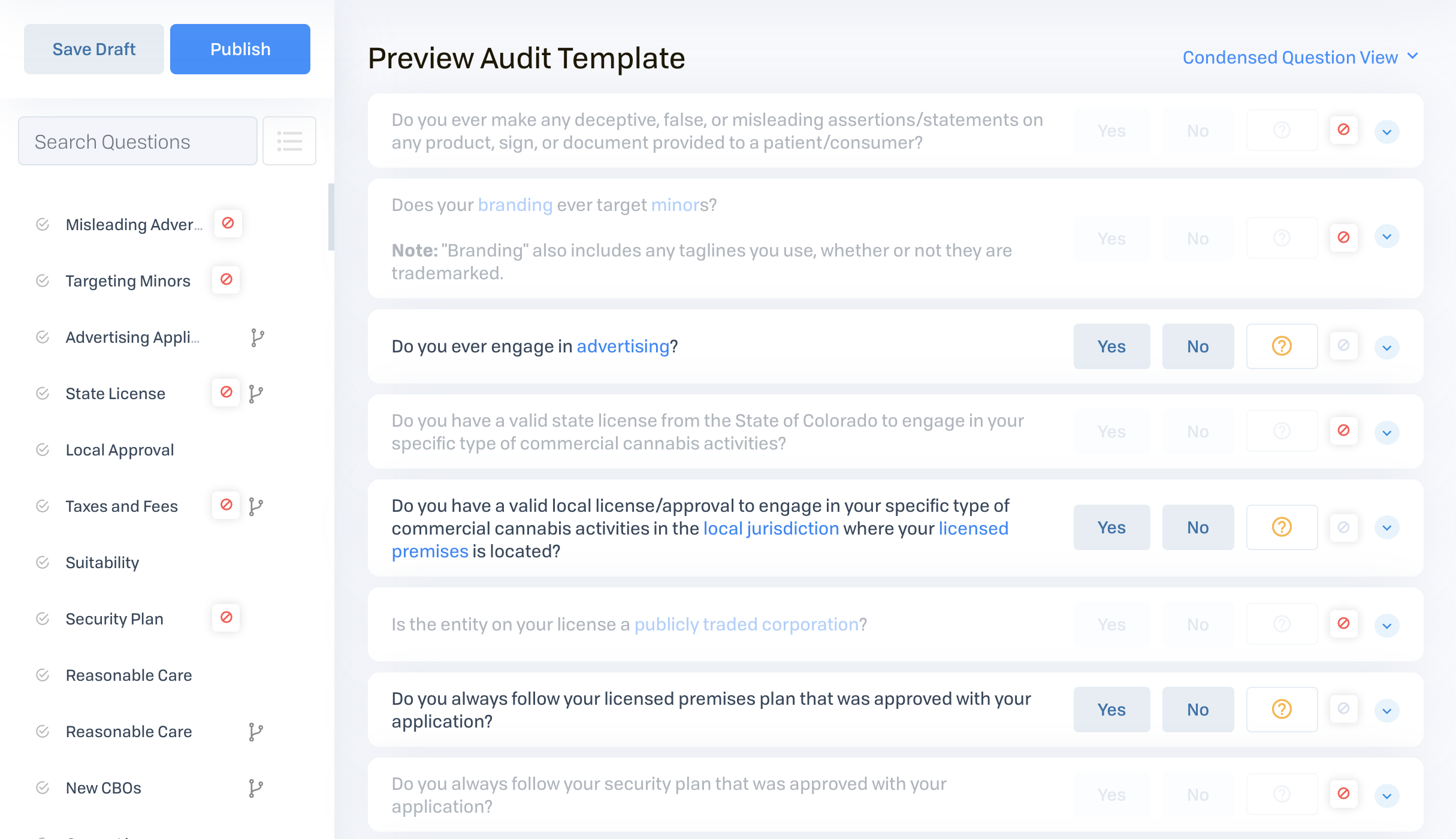 This article covers the steps to creating and editing your Audit Templates.
Simplifya offers three ways to create your Audit Templates. They are:
After completing an audit and clicking the "Complete Audit" button.
From the header section of a Finalized audit.
In the "Templates" tab of the Audits sub-module, using the "Create Template" button from the "Templates" tab.
Turning a previous audit into an Audit Template
We've made it easy to save previously conducted audits as Audit Templates. This approach is actually the one we recommend, since it has two huge benefits:
It allows you to incorporate templates into your current audit flow quicker and easier
It allows you copy over muted questions, risk assignments, and re-arranged questions. Taking the burden off the assignor and reducing overall audit time.
When completing an Audit
After answering all questions on an audit and clicking the "Complete Audit" button, you'll see a modal asking whether you'd like save that audit as a template.
From a Finalized Audit Report

In a Finalized audit, click the ellipses
icon (found in the report header section), then click "Create as Template". Afterwards, you'll see a modal where you can name the template.
Tip: We recommend making templates from your existing audits, as templates retain any questions muted during the audit, as well as the question order. They do not transfer over the answers from that audit.
Creating an Audit Template
You can create and manage Audit Templates through the "Audits" sub-module. To create a new Audit Template:
Click the hamburger menu icon in the top right of the screen.
In the slide-in navigation, select "Audits", and then "Audits".
Click the "Templates" tab.
Audit Template Fields
Once in Question Manager, click the "Create Audit Template" button and fill out the following fields:
Content Type: The question content you want to include into your audit (see: Audit Content: Simplifya, Custom, and Simplifya + Custom).
Template Name: The name you'll use to find your Audit Template in order to edit or assign it.
Audit Type: Select a Full or Category audit (if the "Content Type" is Custom, you'll also be able to select a Question Group audit).
State: The state field determines which locations an Audit Template can be used at. Additionally, it works in conjunction with the "License(s) to be Audited" field. Only licenses in the selected state can be used.
Risk: Lets you assign a risk of "High" "Medium" or "Low". This field is optional.

On an Audit, t

he assigned risk will be represented by an icon in the corner of the question. Question risk persists from audit to audit, but can be changed during the remediation phase.
Law Type: Select state, local or state and local to determine which level of regulatory question content will be added to your audit. This field is only present on audits using Simplifya content.
License(s) to be Audited: The license field works with the "State" field to determine which locations an Audit Template can be used at. An Audit Template can only be used at locations which have the same license(s).
Additional Custom Questions: Include additional custom questions into this Audit Template. This field is only present on audits using custom questions.
After saving your new Audit Template, your new template will be created in "Draft" status and Simplifya will add the relevant questions to the Template. See Audit Template Statuses for more details.
Audit Template statuses
Audit Templates have the following statuses:
Draft:

A template goes into "Draft" immediately after being created.

Published:

Publishing an Audit Template will allow users to be assigned audits from it. You'll still be able to edit a template after publishing

. Once published, an Audit Template cannot go back to "Draft".
Once a "Published" Audit Template has been used in an audit, you'll need to create a new version of the template to make edits to it. The new version will be created in "Draft" status (see: Versioning an Audit Template).